"176. Ben Pontin in his valuable recent book

 
Nuisance Law and Environmental Protection

 
(2013) shows how since the middle of the 19th century common law nuisance has played an important complementary role to regulatory controls, one hand stimulating industry to find better technical solutions to environmental problems, and, on the other, stimulating the legislature to fill gaps in the regulatory system. He sees the present appeal as an important opportunity for the Supreme Court to review the proper role of this part of the law of nuisance in the modern world (p 184)."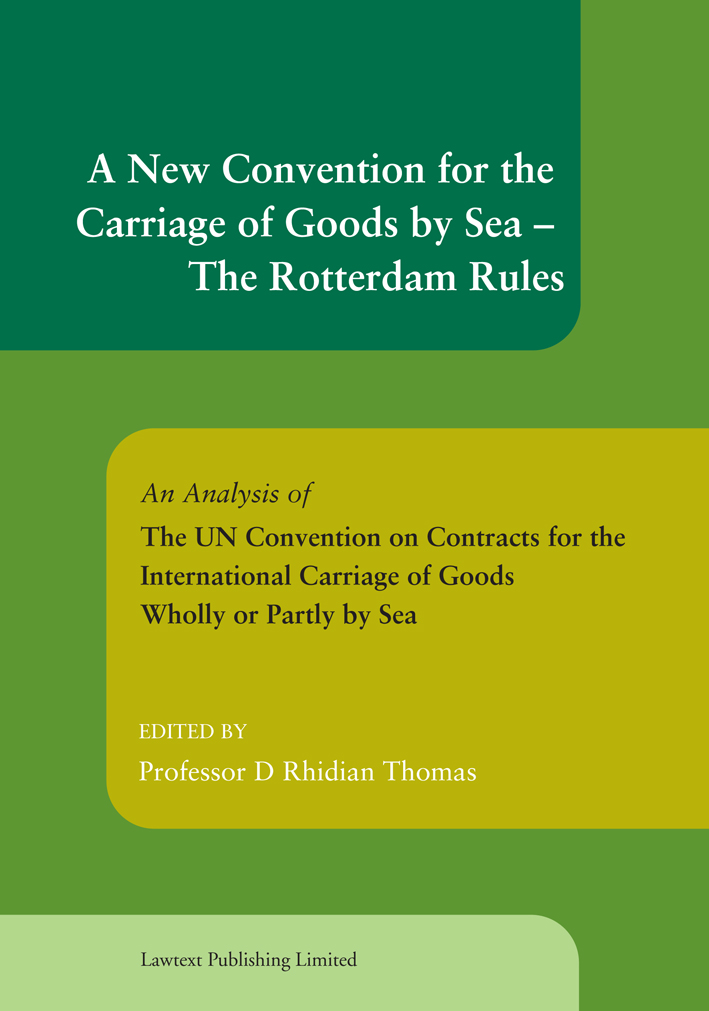 A NEW CONVENTION FOR THE CARRIAGE OF GOODS BY SEA - THE ROTTERDAM RULES
An Analysis of 
The UN Convention on Contracts for the International Carriage of Goods Wholly or Partly by Sea
EDITED BY

 
PROFESSOR D RHIDIAN THOMAS
EXTENT:
 

432 pp Hardback
ISBN
 

0-9539403-3-0
PRICE:
 

£138.00


The new Convention, known as the Rotterdam Rules and open for signature in September 2009,
represents a radical attempt to establish a single uniform legal regime for the carriage of goods by sea.

 
THIS BOOK
 

has been compiled specially in readiness for the occasion and as an essential aid to all those concerned to absorb the complexities of the new Convention.
Contributors include:
PROFESSOR MICHAEL F. STURLEY

 
CHRISTOPHER HANCOCK QC
PROFESSOR G J VAN DER ZIEL

 
PROFESSOR YVONNE BAATZ
PROFESSOR WILLIAM TETLEY, C.M., Q.C.

 
The full text of the Convention, seven other appendices of international conventions and full indexes complete this expert analysis of the new approach and its relationship with the existing international and national laws.
CLICK
here
 

to see the leaflet about this book with full list of Contents and Contributors
contact
ltp@lawtext.com
for orders